Application for Residential Building
Application for Residential Building

Any place is suitable for J-DRUM because it is clean.
Labor is not required because it is an automatic.
Single action, to press the discharge button, is required to discharge the stored refuse in the J-DRUM onto the RCV (refuse collection vehicle). Thus, refuse collection cost and time is drastically cut off compared with the current popular system to collect the refuse bag by bag on the floor. Users are hardly requested to touch the refuse and circumference of the J-DRUM remains clean even right after collection work by the RCV. A full-time caretaker for cleaning is not necessary. In order to avoid use of strangers, a special key is necessary for the inlet gate operation and discharge operation.
Refuse Compaction & Storage Mechanism

As the inlet door is opened it activates drum rotation. Access on the floor level is possible without any steps.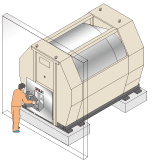 As drum rotates, refuse is crushed, agitated and squeezed into small mass. Rotation is smooth and noiseless due to inverter control.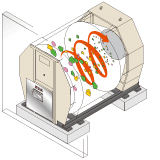 Refuse is squeezed and stored in the stainless steel drum. Disposing refuse into the drum continuously, it is compressed into small mass.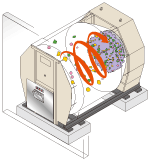 Stored refuse in the drum is automatically loaded into RCV (Refuse Collection Vehicle). Operator doesn't need to touch refuse.
Application for Commercial Building
Un-managed waste often causes trouble with adjoining building or private house due to bad odor and/or generation of vermin. J-DRUM can splendidly work out such trouble. It, therefore, is most useful for such users who want to give people clean and hygienic image and strongly hate trouble with people, e.g. department stores, hotels, hospitals, etc.