ZERO GOMIC...
A garbage treatment system with user and
environmentally friendly universal design
Our Refuse Storage System / J-DRUM is widely introduced and adopted into various hospitals, hotels, residential complexes, commercial and shopping centers, etc. due to its immaculate cleanliness, supreme storage capacity effectiveness, easy operation and easy maintenance. J-DRUM Hygienic Refuse Storage Systems have successfully earned domestic No. 1 acceptance and share. Current increasing and cumulating concerns and demands about environment, totally new system with more beautiful and less space occupation outfit, ZERO-GOMIC has debut.
Feature of ZERO-GOMIC
Hygienic
storage

Odor free
with various
deodorant
systems

Clean and
neat
environment

24 hours
refuse
disposal
at your
convenient

Space
saving of
refuse
chamber

Labour
saving of
cleaning

Barrier
free access
design

Fully
enclosed
safety design

Durable with
stainless
steel drum

Low noise
and vibration
operation

Fully
automated
refuse
collection
by RCV

Weather
proof
installable
outside
Barrier Free Standard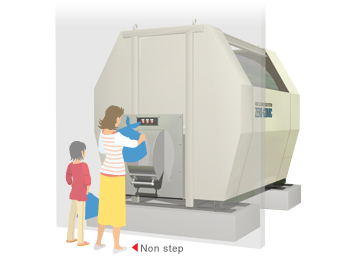 Fully Enclosed Type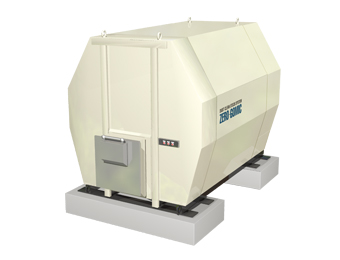 Application for Commercial Building
Un-managed waste often causes trouble with adjoining building or private house due to bad odor and/or generation of vermin. J-DRUM can splendidly work out such trouble. It, therefore, is most useful for such users who want to give people clean and hygienic image and strongly hate trouble with people, e.g. department stores, hotels, hospitals, etc.